Father's Day is the third most popular holiday on which to dine out (after Mother's Day and Valentine's Day), and the

National Restaurant Association

projects that more than 50 million Americans will dine at a restaurant on June 16.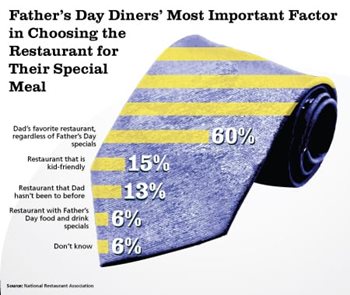 NRA research shows that dinner will be the most popular meal time on Father's Day, with 67 percent of celebrants choosing to dine out for an evening meal; 24 percent go out for lunch, 10 percent for brunch, and 11 percent for breakfast. In addition, 10 percent of Father's Day diners go out for more than one restaurant meal.
In addition, consumers say the most important factor for choosing a restaurant for their special Father's Day meal is dad's favorite restaurant, regardless of specials (60 percent). Only 6 percent of Father's Day diners say they choose a restaurant with specific Father's Day food and drink specials, and 15 percent choose a restaurant that is kid-friendly; 13 percent choose a restaurant that dad hasn't been to before.
The National Restaurant Association surveyed 1,000 adults about Father's Day dining in 2011. The estimate of more than 50 million adults dining out this Father's Day is based on economic analysis and projections, as well as research conducted over the last two decades.