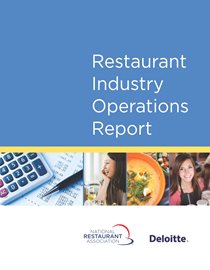 While last year's business revenue and expenses are top of mind from this year's tax season, the National Restaurant Association encourages restaurant operators to share some of that information in its new survey of restaurant operations.
In partnership with Deloitte & Touche LLP, the NRA has launched an update of its
Restaurant Industry Operations Report
, one of the industry's most widely used tools to help restaurateurs gauge how their financial performance compares with operations of a similar profile.
The 2013 edition of the report will include valuable information to help operators sharpen their financial performance, detect potential problems, and measure data in new ways. The report will also have specifics by state and region, as long as the sample size is large enough – more operators participating in each state will lead to stronger breakouts of data when the report is published.
The report analyzes operations data for several restaurant profiles. Within each profile, the report also analyzes data by restaurant type, location, menu theme, sales volume and ownership. Cost categories match up with those presented in the NRA's
The Uniform System of Accounts for Restaurants
.
Operators who complete the survey by May 31 will receive a free copy of the 2013 report, to be released later this year, as well as state- and region-specific data (sample size permitting).
Participants may also enter a drawing for one of three $500 gift cards. Take the
2013 Restaurant Industry Operations Survey online
.